I've seen several reverse canvas DIY projects. Most vary in steps you take from removing the canvas and reattaching it back to the frame. Also in applying designs to the canvas. I have tried a few different ways and have some thoughts.

Removing the Canvas:
1. Cut the canvas with a Xacto knife.
2. Pull the staples that are attaching the canvas to the frame

Type of Vinyl:
1. HTV
2. Adhesive Vinyl

Applying design to Canvas:
1. On canvas first then re-attach frame.
2. Reattach canvas to frame then attach design

Reattaching the Canvas:
1. Staple the canvas to the frame
2. Glue the canvas to the frame
---
Inspiration
Like I have said, I've seen several posts on how to create a reverse canvas and I really like this post by My Crazy Good Life. This DIY is broken into 2 posts. The first one is on creating a reverse canvas, the second is how to apply your design to the reverse canvas. I like that each post is clean and easily readable; steps are broken into sections and have links to all the items that were used.
Post #1: How to make a Reverse Canvas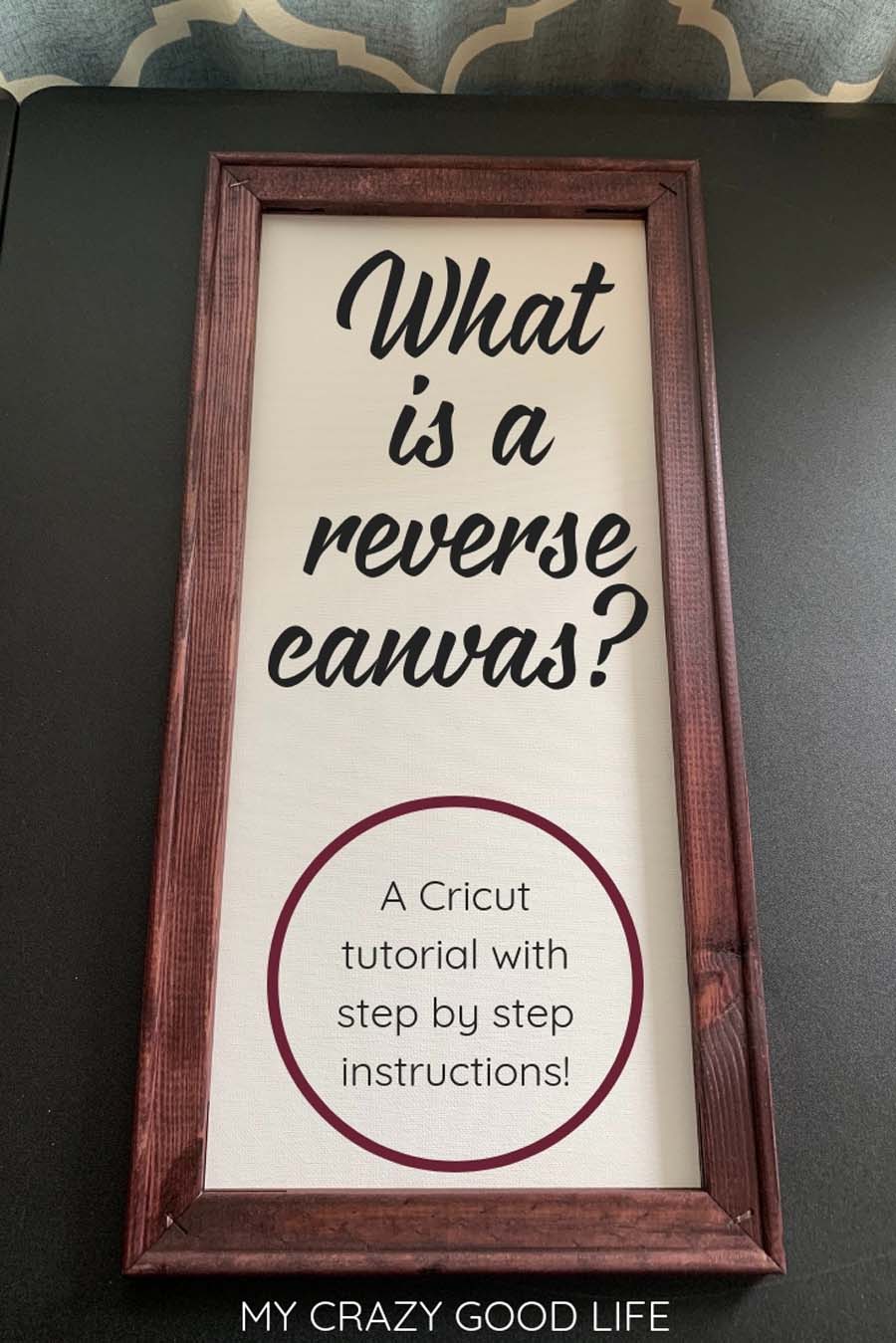 ---
Post #2: How to apply your design to a Reverse Canvas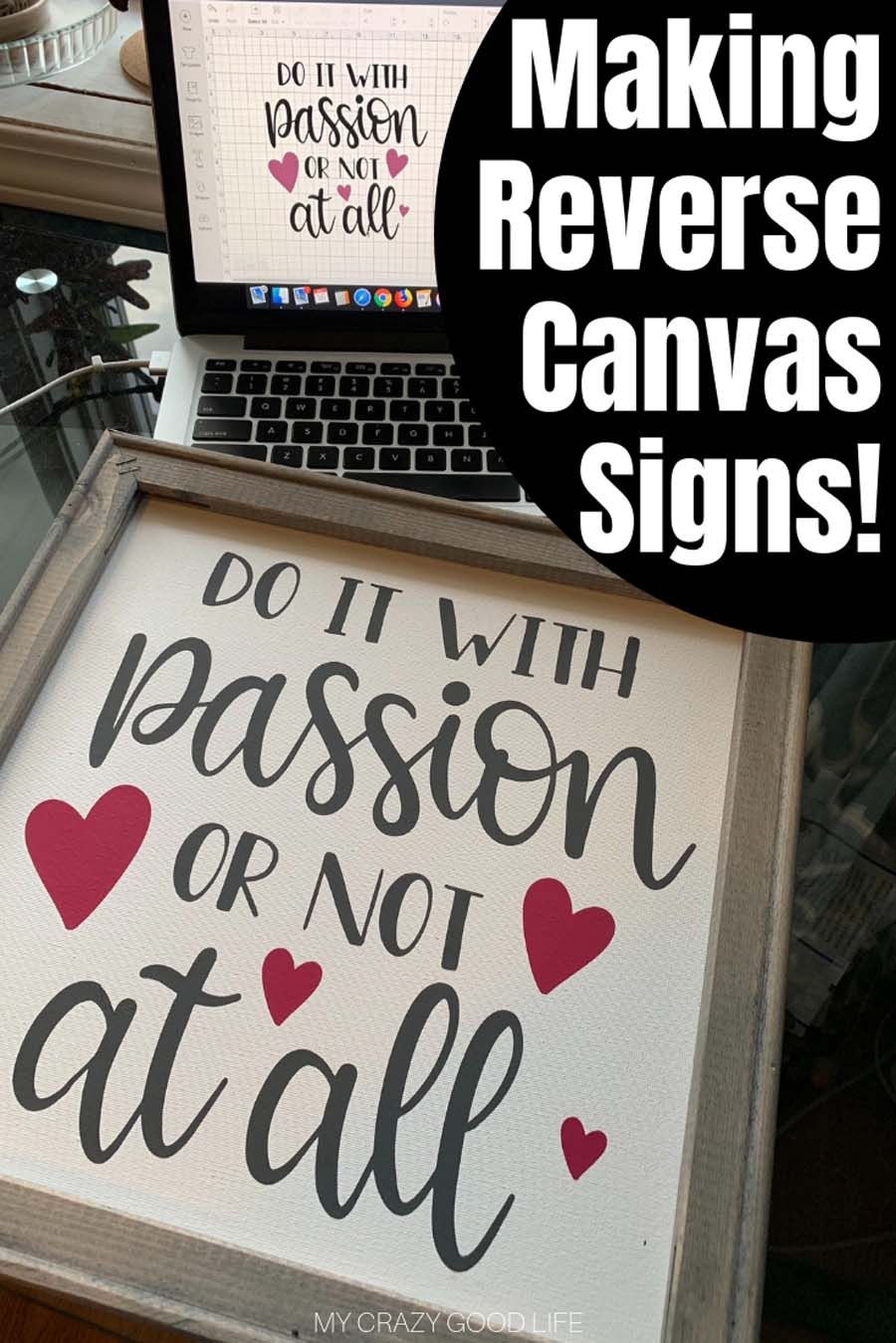 ---
Creating my Reverse Canvas.
Step 1: Remove Canvas from Frame
Methods
Thoughts
Preference
Cut Canvas from Frame
The fastest method to remove the canvas… but… you still need to remove the staples at some point if you want the back to look clean. That is if you plan on selling the item to giving it as a gift.
Of course, you could glue fabric to the back to clean it up as an additional step.
Remove Stapes from Frame
Takes more time and patience. Looks cleaner in the end when you reattach the canvas to the frame.
✅
After removing the canvas I painted the frame to look more like a stain using Waverly chalk paint wax in Antique from Walmart.
---
Step 2: Type of vinyl
Type of Vinyl
Thoughts
Preference
HTV
Easier to weed.
When you transfer using a heat press, it relaxes the canvas so it becomes more flexible.
This was… different and honestly I am not a painter so this was unexpected. Ultimately though it didn't help or hurt when I attached the canvas back to the frame.
✅
Adhesive Vinyl
Requires more patience to weed.
As long as you add a top layer of paint to the canvas, applying the vinyl from the transfer paper is pretty easy.
---
Step 3: Adding your design to the canvas
Methods
Thoughts
Preference
Attach Canvas to Frame then add design
I can see why you would want to attach your design to the canvas first, so your design will align appropriately within the frame.

HTV
This gets more difficult when you want to use HTV on your canvas… If you plan to do HTV, you may want to use a regular iron or the mini heat press depending on the size of your canvas.

Adhesive Vinyl
If you use Adhesive vinyl, you may need to add a clear coat layer on the canvas in order to get your adhesive vinyl to stick. I had to do this and found it much easier, and less frustrating.
Attach Design to Canvas then add to the frame
I found this method easier to apply the design, no matter which type of vinyl you decide to use, BUT you run the risk of your design not aligning the way you want within the frame.

However, if you DO NOT cut the canvas off of the frame and remove the staples first. You have more canvas to work with when it comes to aligning your design within the frame and attaching it.
✅
---
Step 3: Reattaching the Canvas to the Frame
Method
Thoughts
Preference
Staple
You don't have to wait for anything to dry, but you do have to have a staple gun (which may not be a common item found in a household). You can buy one for cheap from Walmart, which is where I bought mine.
– NOTE: I had to use a hammer to ensure the staples were flesh with the frame, but this is common with any project where I use staples to attach something.
Also, I think you can get your canvas stretched tighter to the frame, so the canvas doesn't sag. Which to me that is important.
✅
Glue
Takes a bit to dry. You can use a combination of hot glue and E6000 glue (quick hold and stronghold combo).
It does take a little bit more patience and time, and I struggled to get my canvas to align exactly the way I wanted and as tight as I wanted. Mind you, I am a glue gun novice.
– NOTE: You might want to consider clamps to keep your canvas from moving while it dries.
---
Final Thoughts
Per my preferences… since I'm a busy gal and like to make crafts that look nice, but can be done quickly.
Remove Canvas Method

: Pull staples first to remove the canvas from the frame.
Yes, it does take more time, but then I don't have to be as exact when I apply my design to the canvas.

Vinyl Type

: HTV
Both HTV and Permanent Adhesive Vinyl worked great. With Adhesive, I would add a layer of clear coat on top of the vinyl so you can easily wipe the dust off. Personally, I like working with HTV more, and I think it is a little easier to weed, but I know not everyone has a heat press which is why HTV is easy for me I think.

Apply Design Method

: Apply the design to the canvas first.
I don't want to have to work around the frame to apply the design. Applying a design can be frustrating enough at times without working around something else.

Reattach Canvas Method

: Staple the canvas back to the frame
I would prefer to staple the canvas, it's faster than gluing and I don't have to worry about it moving around as the glue dries. Also as I mentioned, I can get the canvas tighter to the frame. BUT I did find it helpful to put a little hot-glue on the canvas to get the alignment started, as I started working my way around the canvas, securing it with staples.
You can find the design I used on my Etsy Store – May your walls know joy ($1.00)